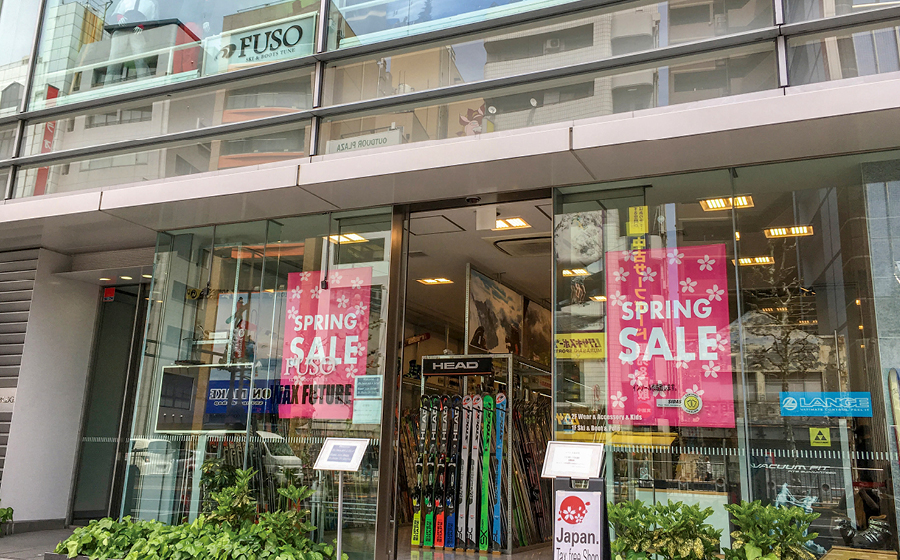 There are countless ski and snowboard specialty stores in Kanda-ogawa but not many can compete with Fuso Ski & Snowboard's floorspace. With such a massive store, you can expect to find a wide range of ski and snowboarding equipments as well as snow apparel and accessories. Fuso Ski & Snowboard has the greatest range of products in town, from the latest products from the most popular brands to reasonably marked down older models.
This store offers real expertise in many ways, one way is to have a chat to one of their pro-skier staff, who will give you expert advice and help you prepare for your next ski trip.
But the real underrated expertise they offer is their qualified shoe fitter. The shoe fitter will help with solving current ski boots troubles, assist you in finding the perfect pair of boots matching your needs and even customising the boots to fit your feet.
Fuso Ski & Snowboard is a duty-free store with several English speaking staff, so there's a lot of benefits in doing your snow equipment shopping here. Thanks to the great range of products and highly qualified staff, you will no doubt get the help you need to have the best time in the snow like never before.
Fuso Ski & Snowboard
2-3-6 Kanda-ogawa-machi, Chiyoda-ku, Tokyo
Phone: +81-3-3293-8965 (SKI) / +81-3-3219-8499(SNOWBOARD)
Open: 11:00am-7:00pm
Closed Wed
http://www.fusosports.jp
REGION INFORMATION
COMMENTS