History flows through this Snow Monkey town near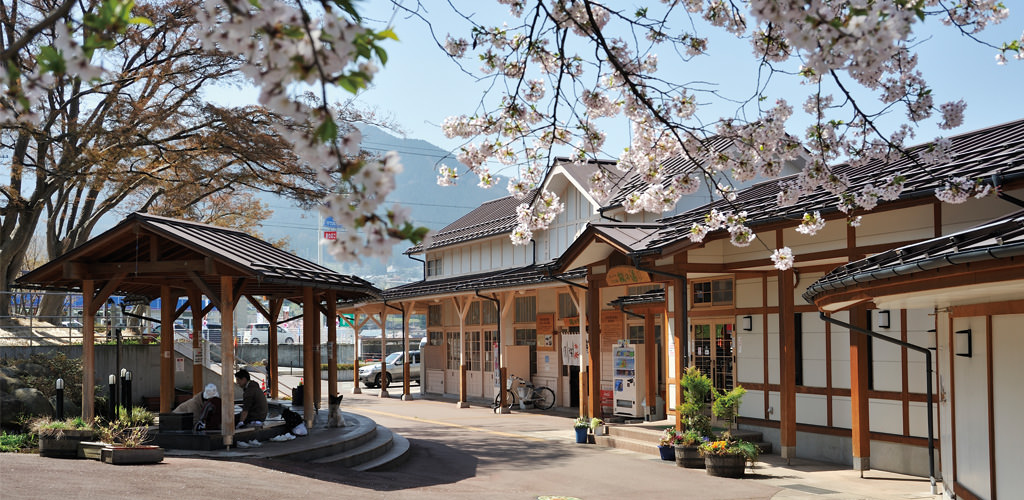 AN idyllic hot spring inn town some 30 kilometres from Nagano City, Yudanaka Onsen is a popular base for visitors to the nearby Zenkō-ji Temple, Jigokudani Monkey Park, Hokusaikan Museum, and Shiga Kogen resort area. The town is the final stop on the Nagano Dentetsu Line from Nagano City, around 45 minutes away on an express service, and is a time capsule of traditional Japan.
The spring-head that was first discovered in Yudanaka Onsen is believed to have been enjoyed for bathing and healing since Japan's prehistoric Jōmon period. It was first chronicled in Japanese history some 1,400 years ago by Chiyu, an eminent monk who used it to treat himself, and erected stone Miroku Buddha statues to its east and west. Chiyu named the spring 'Yōkarei', indicating that its waters had beneficial properties for a long life; today, this piping-hot saline spring of around 90°C supplies the town's Yudanaka Ōyu bath.
Guests staying at local accommodation receive entry to the tastefully designed Ōyu included in their room tariff, and this bath offers a genuine traditional hot spring experience. Inside the mens and ladies sections, there are rectangular baths divided into a hot side of around 45°C, and a warm side; for some bathers, the warm option can still feel hot, so it's a good idea to take it slow at first.
Accommodation in Yudanaka Onsen ranges from hotels and traditional Japanese ryokan inns to guest houses, which provides guests with a wide choice of Western and Japanese-style rooms. With such a long history, the ryokan of Yudanaka Onsen feature splendid, spacious Japanese gardens, with established Japanese red pine ('akamatsu') and other trees providing refined character. Their charm and character has famously attracted Japanese literary greats, including Haiku poet Issa Kobayashi, who is commemorated with a monument outside the Ōyu bathhouse.
One of the true delights of staying at a ryokan in Yudanaka Onsen is a seasonal kaiseki banquet. Local specialties to enjoy include fresh home-made soba buckwheat noodles, craft beer brewed with pure local mineral water from Shiga Kogen, and Shinshū beef. Many inns have been run by families of the town for generations, and provide delicious meals for their guests with produce directly from surrounding farmland – which is also on sale at markets outside Yudanaka Onsen Station every morning.
All public hot springs are within a seven-minute walk of the station and can be enjoyed conveniently with a Yu-meguri Tegata pass, available through local accommodation, which includes entry to any three of the affiliated local hot spring baths.
And after a relaxing bath, there are welcoming izakaya bars and restaurants to get together at around Yudanaka Onsen Station, and in nearby towns.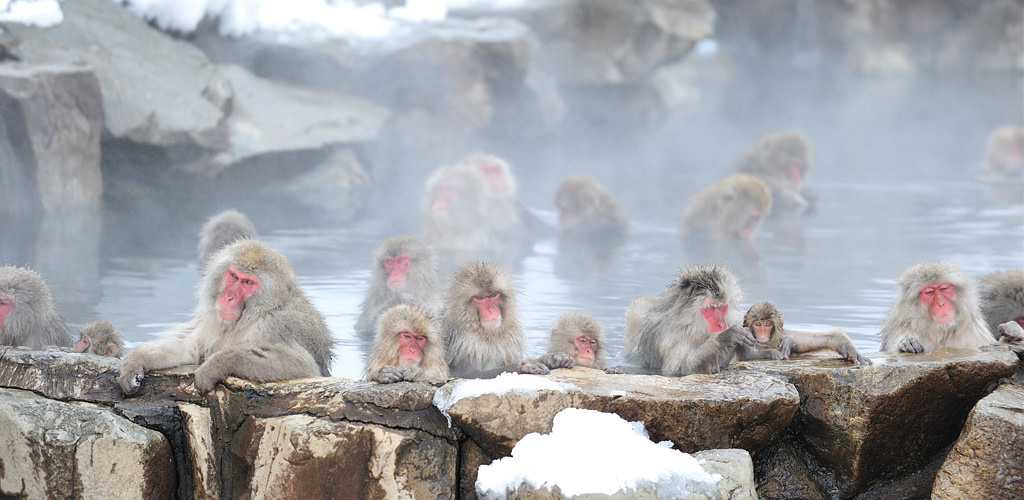 The Snow Monkeys of Jigokudani Monkey Park can also be visited from Yudanaka Onsen, aboard a free return shuttle service from local accommodation. Buses depart from here to the head of the Yumichi nature trail, a 1.6-kilometre scenic walking route to the Snow Monkeys, at Kanbayashi Onsen 15 minutes away.
Shiga Kogen, a vast snow resort area by winter and hiking paradise by summer, is also close by Yudanaka Onsen. The majority of the ski fields here have a high elevation of over 1,500 metres, and command spectacular alpine views. The Shiga Kogen resort of Ryuoo Ski Park is just some 20 minutes from Yudanaka Onsen, and has a good range of terrain for all riders across 1,080 metres of vertical, from 850 to 1,930 metres.
---
How close is Yudanaka Onsen to?
Nagano: 50 min (Nagano Dentetsu Line);
Tokyo: 2 hrs 15 min (JR Nagano Shinkansen, Nagano Dentetsu Line)
Further information

http://yudanaka-onsen.info/en
http://www.avis.ne.jp/~yudanaka/another_language/en/index.html
Take the express route to see the snow monkeys from Nagano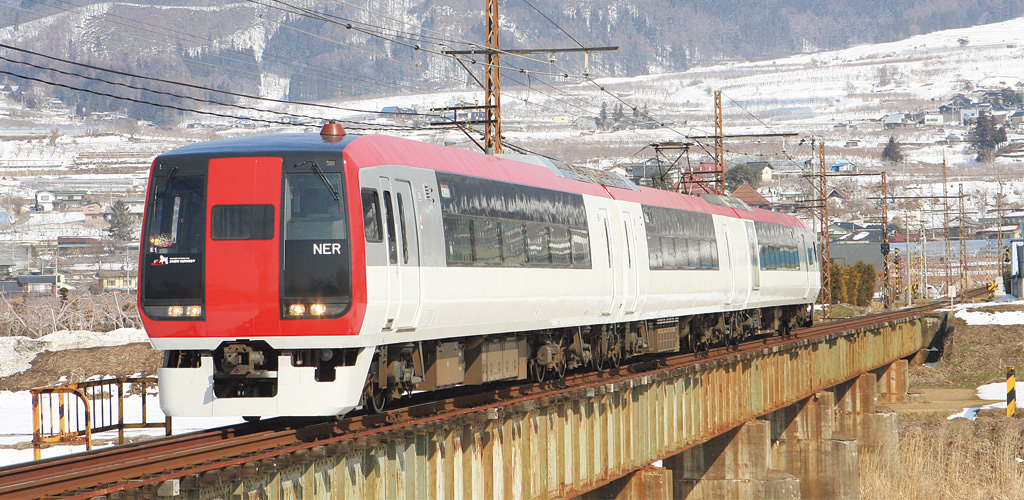 Nagano Electric Railway operates Snow Monkey limited express services from Nagano on the Nagano Dentetsu Line, which are a great way to see the snow monkeys comfortably and efficiently. The cars running on Snow Monkey services were formerly used for airport express services between Narita and Tokyo, and were refurbished for the Snow Monkey limited express from February 2011.
The journey aboard the Snow Monkey from Nagano Station to Yudanaka Station takes 50 minutes, from where the Oku-shigakogen and Shirane-kazan bus companies provide services to Jigokudani Monkey Park.
For smooth transfers on all these services and savings on travel costs, purchase a Snow Monkey Pass for just ¥3,200 at Nagano Dentetsu Nagano Station – adjacent to the JR Nagano bullet train station. To get there from the bullet train, take the Zenkoji exit and continue to the right, where the stairs to Nagano Dentetsu Nagano Station are at the far end of the bus terminal. A Snow Monkey Pass includes all return transport from here, as well as entry to Jigokudani Monkey Park.
REGION INFORMATION
COMMENTS