The number one town in the Northern Alps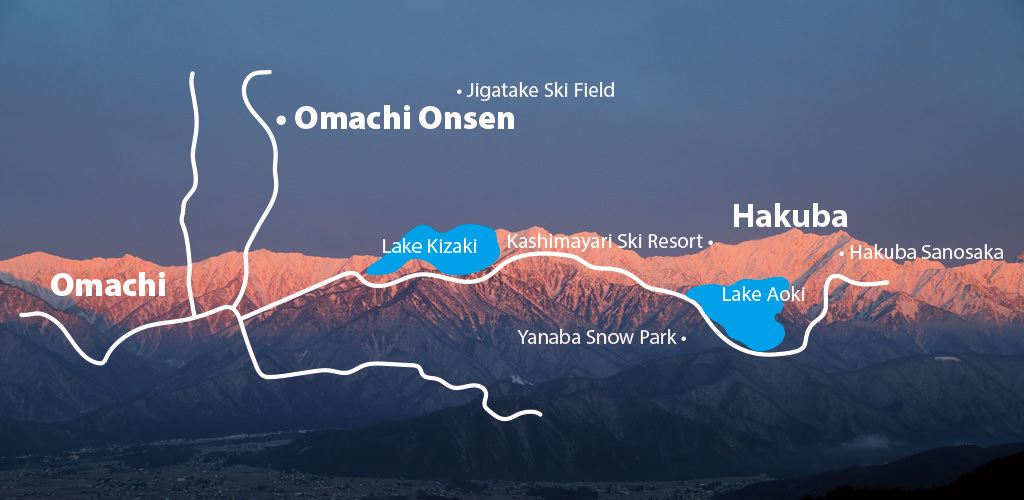 Gazing out at the glossy white, craggy peaks of the Northern Japanese Alps from Omachi in winter is like standing in front of a beautiful buffet dinner with an empty stomach.
Everything looks enticing. How will you see it all on one holiday? The only solution is to come back again!
And this is exactly what regular visitors to Omachi do throughout the season, supporting some great local hotels, inns, hot springs and restaurants that bring a fresh style to the model Japanese ski resort town.
The Kurobe Kanko Hotel, for example, is constructed with the taste and authenticity of a classic European alpine retreat. With walls as white as the peaks outside, and a gorgeous lattice facade, it's another one of the interesting accommodation facilities around Omachi. With plenty of delicious local specialties also on the menu, Omachi is a gem in the powder of the Hakuba area, just waiting to be discovered…
Setting the town alight in winter
Just as powder snow fever is starting to peak around Omachi during late January, the town ignites with a series of thrilling festivals.
The opener is the Kashimayari Fire Festival at Kashimayari Ski Resort, featuring a parade of torchbearers who set fire to a traditional New Year's bonfire, before a colourful fireworks display.
It forms the prelude to the Omachi Onsenkyo hot spring village's Dream Fireworks and Sound Festival, a month long programme of powerful taiko drumming performances with more fireworks, and beautiful candle displays in a forest theatre.
KEY TRAVEL INFO
Omachi is 2 hours and 20 minutes from Tokyo by bullet train and express bus.
The local transport hub is Shinano Omachi Station. Catch buses from here to Omachi Onsenkyo (13 min), and trains to Hakuba (40 min).
The Omachi-go ski shuttle between Omachi and Hakuba is available for Hakuba Valley ticket or Omachi ski area pass holders.
OFFICIAL OMACHI TRAVEL GUIDE
www.kanko-omachi.gr.jp/en/
OMACHI
REGION INFORMATION
COMMENTS