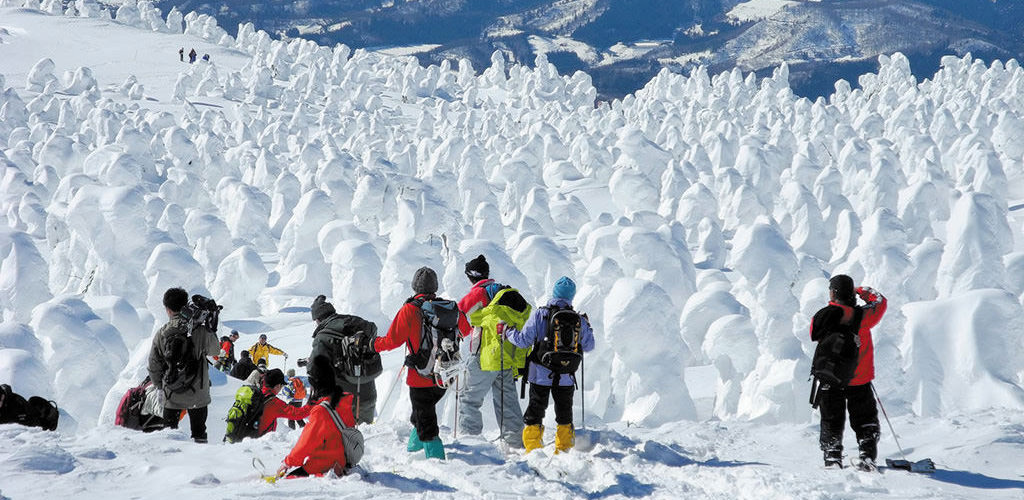 Yamagata Prefecture stands out as a must-visit powder destination; it's a part of a region in Japan that is blanketed by some of the country's heaviest snowfall every winter. Located less than three hours by bullet train to the north of Tokyo, some 160,000ha of the prefecture is national parkland and other nature reserve areas.
Compared to much-publicised places like the Hakuba Valley and Shiga Kogen, Yamagata still remains a lesser known destination, especially by foreign visitors. The crowd will build as the season peaks, especially with Japanese riders but it's still a relatively uncrowded spot.
Within it lies the vast Zao Hot Springs Ski Resort renowned not just for its long history and superb powder, but for its rare and beautiful ice monsters. Groves of conifers covered in ice crystals that expand into giant, twisted monster-like shapes during the winter. They occupy sweeping tracts of terrain around the summit of the mountain and decorate the opening stages of its ten kilmetre run, which offers incredible vistas of the surrounding peaks.
Nearby is the 1,900 year-old hot spring village of Zao Onsen, one of countless hot spring villages in Yamagata. The prefecture is famously known in Japan as a "hot spring kingdom" and natural hot spring baths are available to enjoy at a combined total of more than 500 of its inns, bath houses and other facilities.
As well as its healing baths that are rich in minerals, the hot spring inns of Yamagata are where you can experience authentic local food that includes delicacies like Yonezawa Beef – ranked as one of Japan's top three Wagyu breeds.
Yamagata also offers some exciting day trips and other journeys in winter. Take a cruise past the waterfalls of its impressive Mogami Gorge while dining on a boat, have a drink in the ice bar at the Yuki Hatago Festival in Shizu Onsen, or see a special performance by Yamagata maiko apprentice geisha, and let the depth of its local culture add the unique touches that turn a good snow holiday into a great one.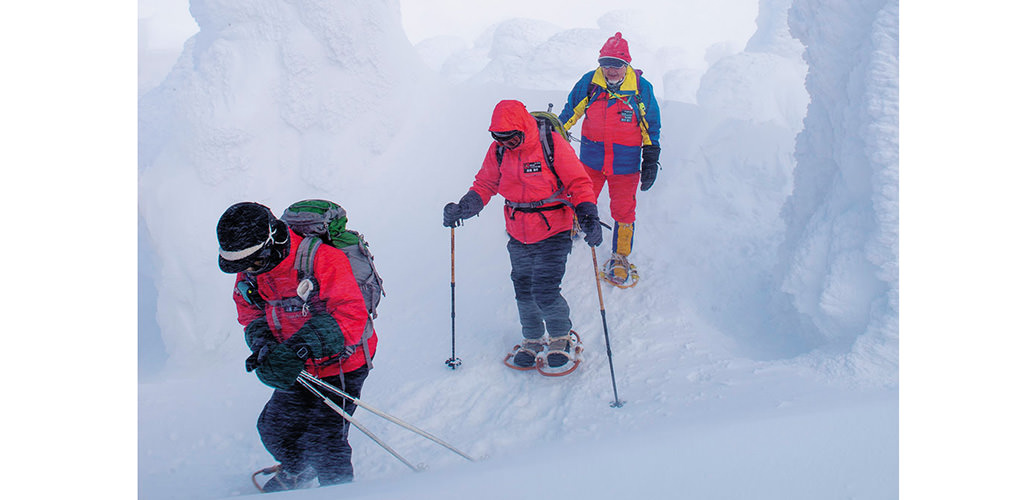 Charming winter journeys in Yamagata
Mogami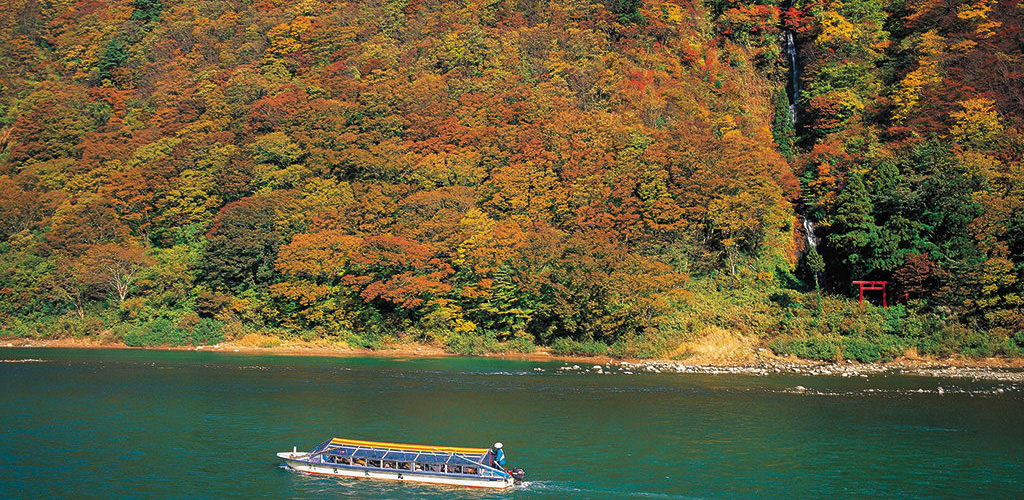 More than three quarters of the scenic Mogami region is covered in mountainous forest, and it is named after the 224 km-long Mogami River. The forest contains more than ten different species of Japan's tallest trees. Some are more than 1,000 years old and can measure up to at least three metres around the trunk.
Mogami River was a vital link in an ancient trade route from the coast of Japan Sea to Kyoto, Osaka and Tokyo.
The Mogami Valley Basho Line river cruise is popular amongst visitors, it takes in almost 50 waterfalls, and winter cruise boats – or kotatsu-bune. This includes the luxury of a Japanese kotatsu foot warmer, keeping passengers cosy as they enjoy a hearty winter hotpot with hot sake on board.
Dewa Sanzan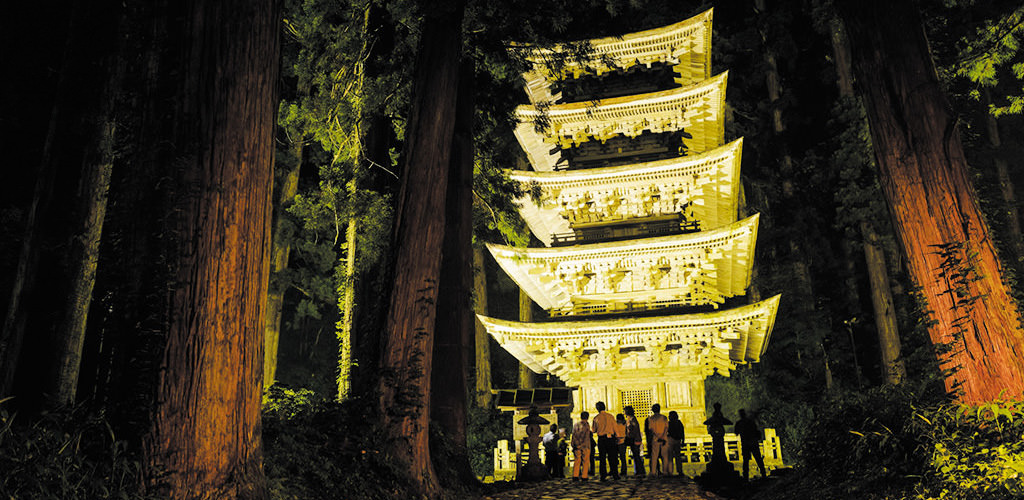 Dewa Sanzan is an ancient power spot, and holds some beautiful attractions for visitors to Yamagata during winter.
The Yuki Hatago Festival in Shizu Onsen, held every February, showcases life-sized snow sculptures. They are recreations of inns used by pilgrims nearby Mt Gassan, one of the three sacred peaks of Dewa Sanzan along with Mt Yudono and Mt Haguro.
Go on a snowshoe hike at Mt Gassan from Shizu Onsen or see the five-storied pagoda – a national treasure – on the way to the top of Mt Haguro.
To experience the vegetarian cuisine of the yamabushi priests, and stay in one of their temple lodgings in the village of Toge. A great way to fully immerse into the spiritual atmosphere of Dewa Sanzan.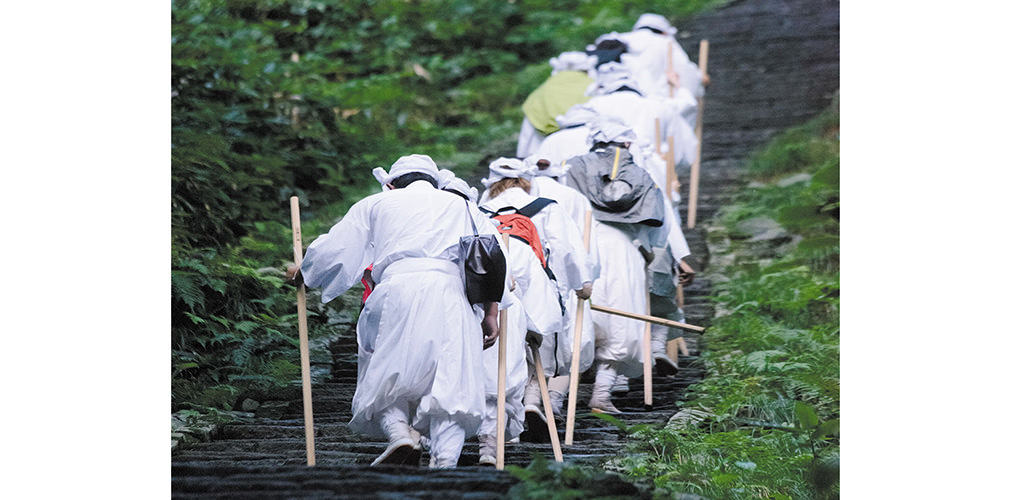 How close is Yamagata City to?
Tokyo: 2 hrs 30 min (train)
Osaka: 5 hrs (train)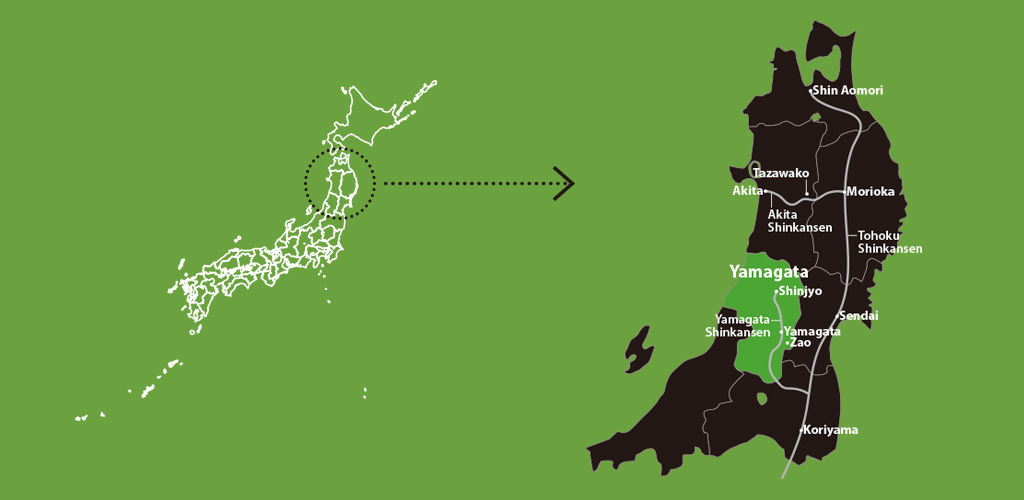 Further Information
http://yamagatakanko.com//