Night cruising in the domain of the snow monsters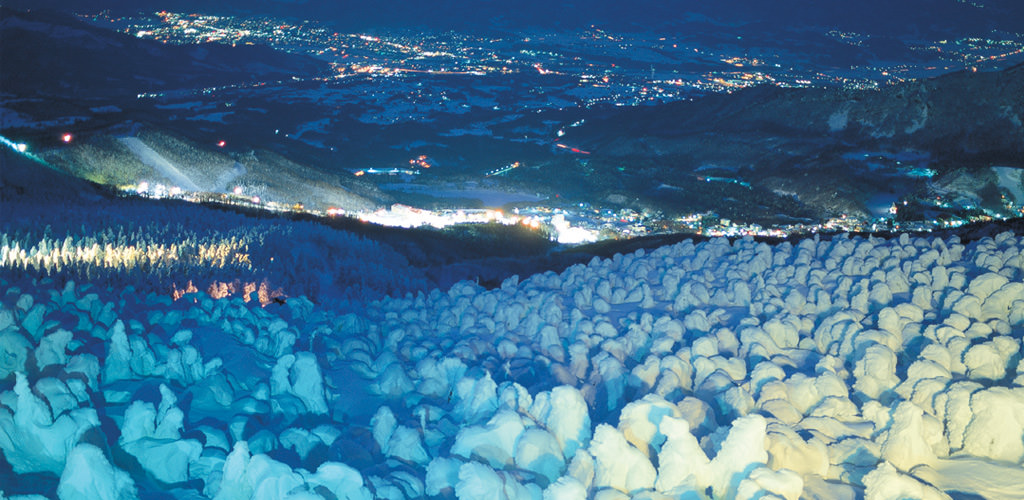 The historic hot spring town of Zao Onsen lies within the Zao mountain range, an impressive cluster of stratovolcanoes 40 minutes from Yamagata City. Legend has it that a wounded warrior stumbled upon the first spring-head in the area after a battle over 1,900 years ago. The waters have since earned the title 'Springs of Beauty', for their rich concentration of cleansing and refreshing minerals for the skin.
Once the heavy snows of the northern Japanese winter start to pile up in Zao Onsen, the expansive slopes of its Zao Onsen Ski Resort kick into action. One of Japan's best and most unique, it is one of the rare places that 'snow monsters' come out to play: they are formed by the swathes of firs covered in expanding and contorting ice crystals, creating a surreal and beautiful landscape. Known as 'juhyō', the snow monsters populate the slopes of resort's 1,331-metre Juhyō Kōgen gondola station, and are lit up in colour at night for the Zao Juhyō Festival from mid-January until the end of February. An unforgettable way to meet the snow monsters is aboard the Nightcruiser, a heated snowcat that winds its way through the domain of these natural works of art.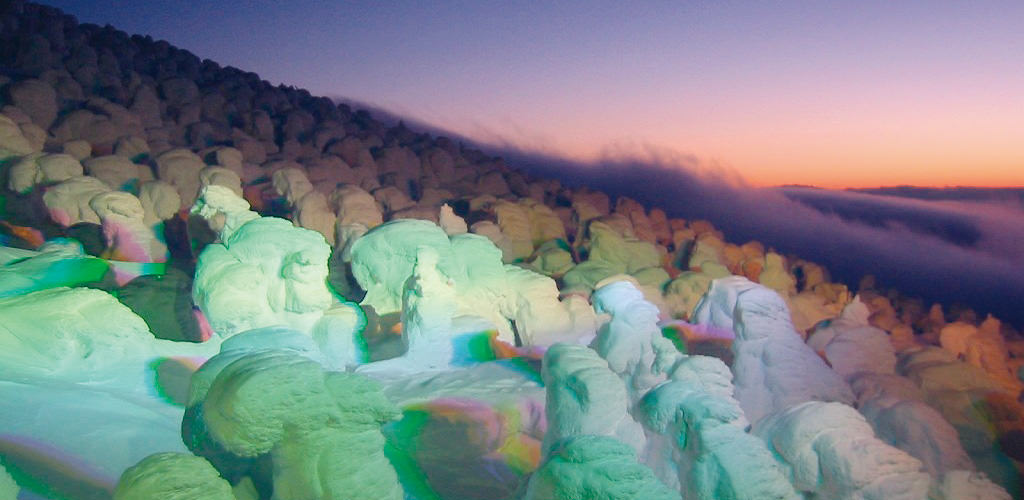 The many hot springs at the base of Zao Onsen Ski Resort are steaming oases in the deep snow, and soaking in a tasteful stone outdoor hot spring bath after a day on the slopes is nothing short of magical.
Zao Onsen is an outlying district of Yamagata City, which holds another another rare attraction of the area: the dōjō of champion Japanese swordsman Yoshihiro Abe, 'Abe Faction Saber Way'. Wielding a razor-sharp katana, Abe performs a unique showcase called 'The Samurai Experience', with feats normally seen only in martial arts films.
Yamagata's Hotnaru Yokocho laneway dining and drinking strip is also an essential when visiting town, for some great traditional nightlife.
Travelling times to Zao Onsen
Tokyo: 3 hrs 20 min; Yamagata: 40 min
Further Information