Kenrokuen Garden, Myoryuji Temple, Kanazawa Station & Omi-cho Market
Kenrokuen Garden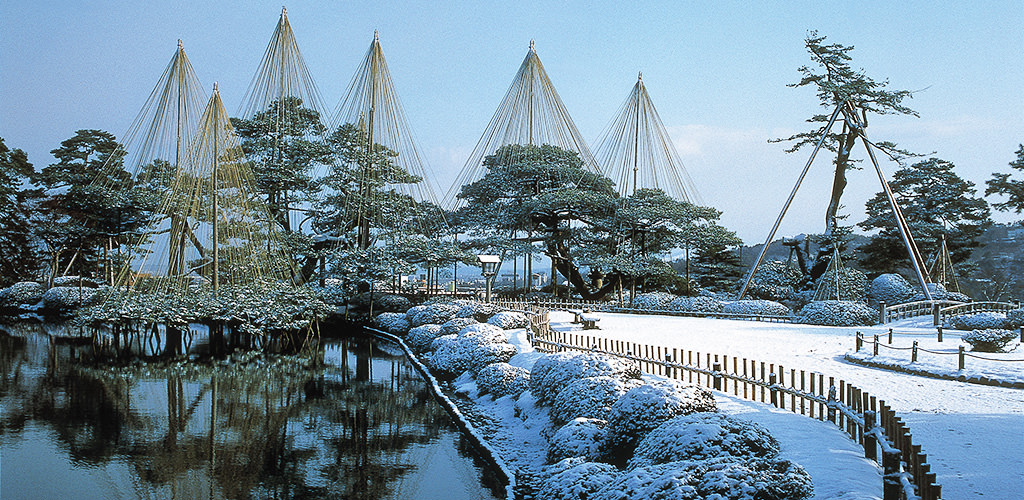 Featuring an inspiring series of landscapes imbued with deep philosophy and spirituality, Kenrokuen Garden is an iconic part of Kanazawa's cultural heritage, and one of Japan's three most beautiful gardens.
The lords of Kanazawa Castle designed Kenrokuen as a contemplative serenade through a traditional Eastern utopia, with islets representing the dwelling places of immortal wizards interspersed throughout ponds intended to evoke the open ocean.
The gently flowing streams between them are punctuated by the cascade of waterfalls, and are a magnificent sight to enjoy over green tea from the historic old teahouses in the garden.
Projection mapping events are held during the evening at Kenrokuen and Kanazawa Castle for a limited time during each season of the year, illuminating them beautifully with creative, dynamic images.
http://www.pref.ishikawa.jp/siro-niwa/kenrokuen/e/index.html
http://www.pref.ishikawa.jp/siro-niwa/kanazawajou/e/index.html
Myoryuji Temple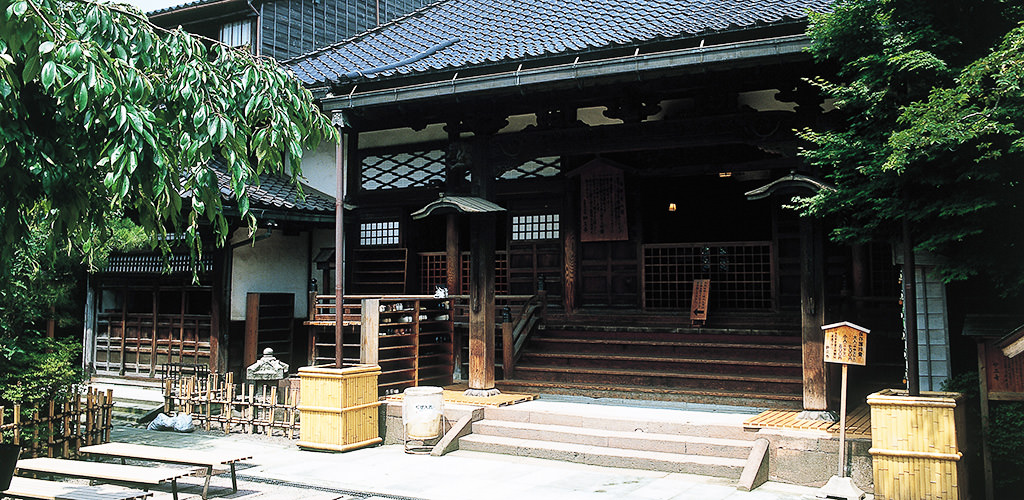 On the outside, a peaceful Buddhist temple with beautiful wooden reliefs, and an integral part of daily life for countless generations of worshippers in Kanazawa. On the inside, an elaborate labyrinth complete with trap doors and secret passageways.
Established in 1643 and now widely known as 'Ninja Temple', Myoryuji Temple is believed to have been part of a secret line of defence for Kanazawa Castle in the event of an attack from the samurai government of the era, traditional foes of the resident Maeda clan. Although the need for it never eventuated, the temple stands as a striking example of the intrigue that simmered beneath the surface of diplomatic relations between the two, ever-ready to reignite old political allegiances.
http://www.myouryuji.or.jp/en.html
Kanazawa Station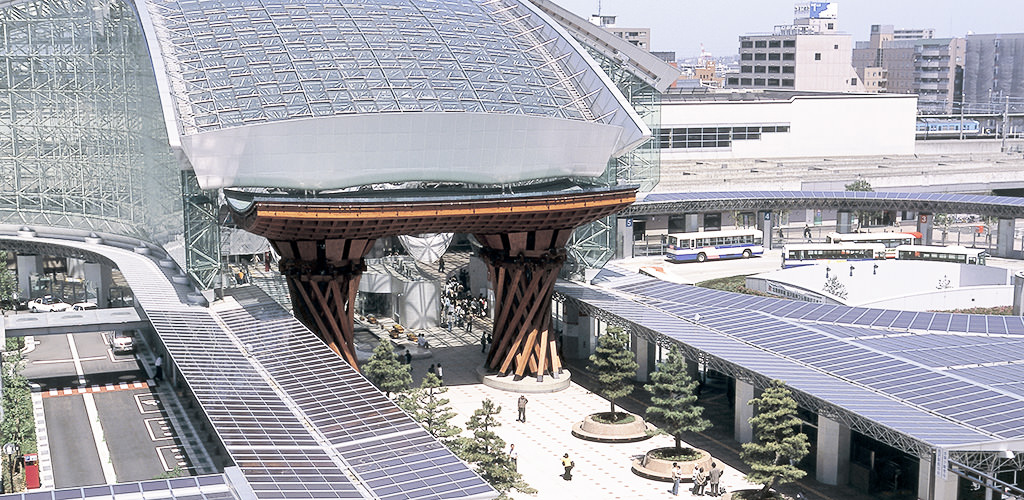 The city's major gateway, Kanazawa Station is beautifully designed to reflect its strong traditional culture and modern edge, and is rated by Travel+Leisure as one of the 14 most beautiful train stations in the world. More than 20,000 sheets of its signature gold leaf went into decorating pillars on its new bullet train platforms, and the enormous Motenashi Dome and Tsuzumi-mon gate stand out as interesting architectural landmarks at its east exit – a stopping point for the Kanazawa Loop Bus to the city's cultural heritage area.
English-speaking volunteers from the Kanazawa Goodwill Guide Network are ready to assist at the visitor centre inside Kanazawa Station, which also arranges luggage couriers.
The surrounding area is a hub of great restaurants, bars, shops and accommodation, with many famous old inns and fine dining restaurants waiting to be discovered in the backstreets.
http://kggn.sakura.ne.jp/index_e.html
Omi-cho Market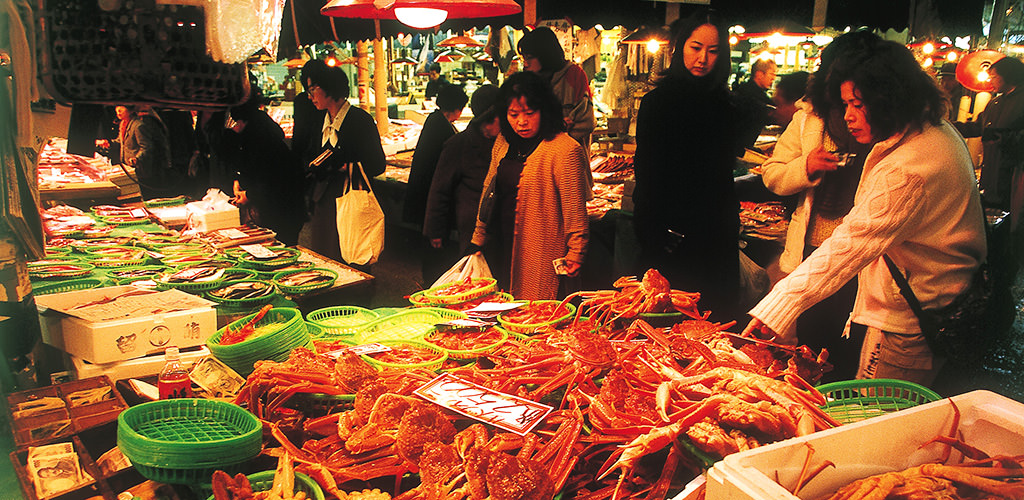 The hail and hearty Omi-cho Market is a goldmine of fresh seafood, and is just a 15-minute stroll from Kanazawa Station.
It was established in 1721, and is known and loved by the people of Kanazawa as the city's kitchen, and an important foundation of its food culture. Close to 200 stalls, restaurants, bars and traders occupy the market's vast area of 2.8 hectares, and it is a hive of activity day in, day out.
No visit to Omi-cho Market is complete without a sashimi rice bowl at one of its eateries, which is known as kaisendon – always a popular choice with market-fresh, seasonal fish served cheap and cheerful.
Learn more
ISHIKAWA ATTRACTIONS
Get the full picture on Ishikawa's beautiful range of attractions throughout the year:
http://www.hot-ishikawa.jp/english/attraction/index.html
Official Ishikawa Travel Guide:
http://www.hot-ishikawa.jp/english/magazine.html
Related Ishikawa Posts