Japan is stunning to visit at any time of year
Feast your eyes upon four of Japan's great seasonal activities and destinations in this feature. Although they showcase some of its quintessential natural and cultural heritage, these highlights can easily remain hidden behind the deep powder of winter that mesmerises skiers and snowboarders. Here we invite you to step out from the shadow of Japan's wintry charms, and experience its excitement and wonder in spring, summer and autumn. . .
ENLIGHTENED VIEWING
Koyasan blazes with a palette of red and gold in autumn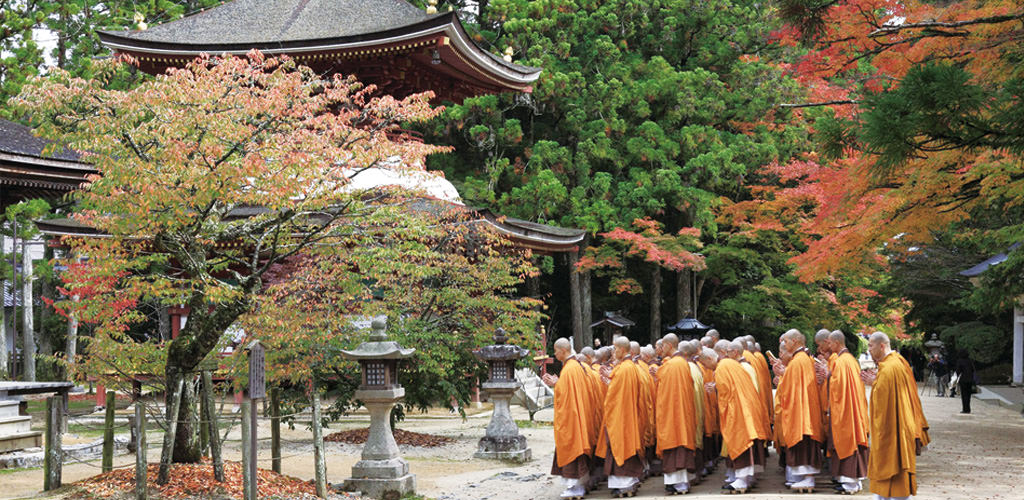 ©Wakayama Tourism Federation
Among Japan's splendid array of famous autumn foliage spots, the monastic community of Koyasan stands tall with its resplendent Buddhist architecture, and primeval old-growth forests – the ultimate canvas for the palette of seasonal colour. Geographically resembling the shape of an enormous lotus, the community is part of Sacred Sites and Pilgrimage Routes in the Kii Mountain Range, a World Heritage-listed area in Japan's Koya-Ryujin Quasi-National Park. From late October to early November, its spectacular mountain landscape ignites in a blaze of deep crimson and gold foliage, making this one of the most magical times to be there.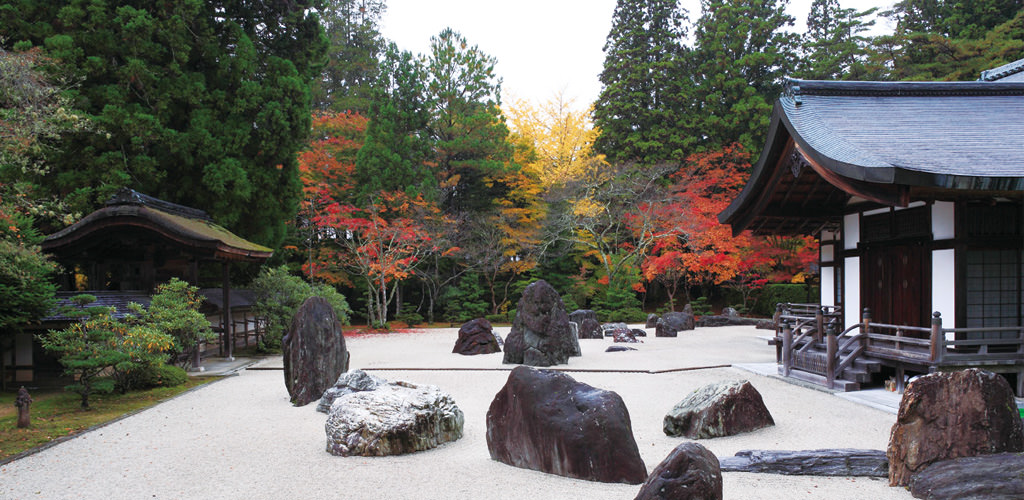 ©Wakayama Tourism Federation
To immerse yourself in the ancient traditions of Koyasan, a stay at a temple lodging ('shukubo') is essential. Part cultural experience, part wellness retreat, and part spiritual practice, guests enjoy a healthy selection of seasonal Shojin ryori vegetarian cuisine, and are able to step into temple life with activities such as meditation and sutra copying.
WHERE THE RAPIDS ARE
Japan's best white water rafting is in Tokushima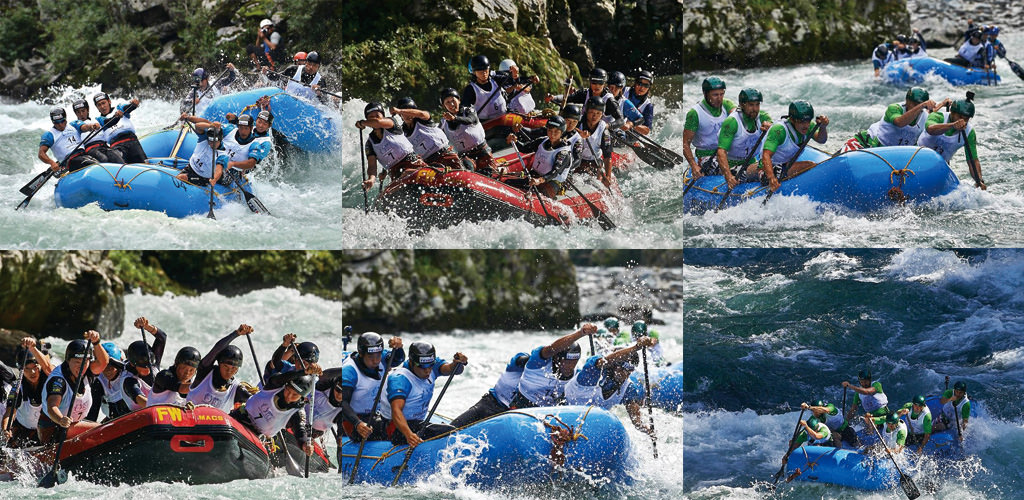 The Yoshino River flows down exhilarating drops and over boiling rapids as it cascades out to sea from the mountainous interior of Shikoku, one of Japan's main islands.
Join a rafting tour down this emerald-green wonder, which takes in the ancient edifices of Oboke and Koboke gorges, for a roller coaster ride through some of Japan's best outdoor scenes in summer. The outstanding scenic highlights of the Yoshino River include serried marble formations rising up on either side of the gorge area, presenting intricate works of natural sculpture that contrast sharply with the lush foliage above.
A popular base for raft trips on the river is Miyoshi City in Tokushima Prefecture, which also has excellent local hot springs such as Iya Onsen. After enjoying a full or half day out on the water, local guides take guests to soak here and in other local onsen, to relax after the action.
Raft trips from Miyoshi City also operate in English, and the rafting season runs from July through to October.
WHEELS OVER WATER
Experience the Seto Inland Sea region by bicycle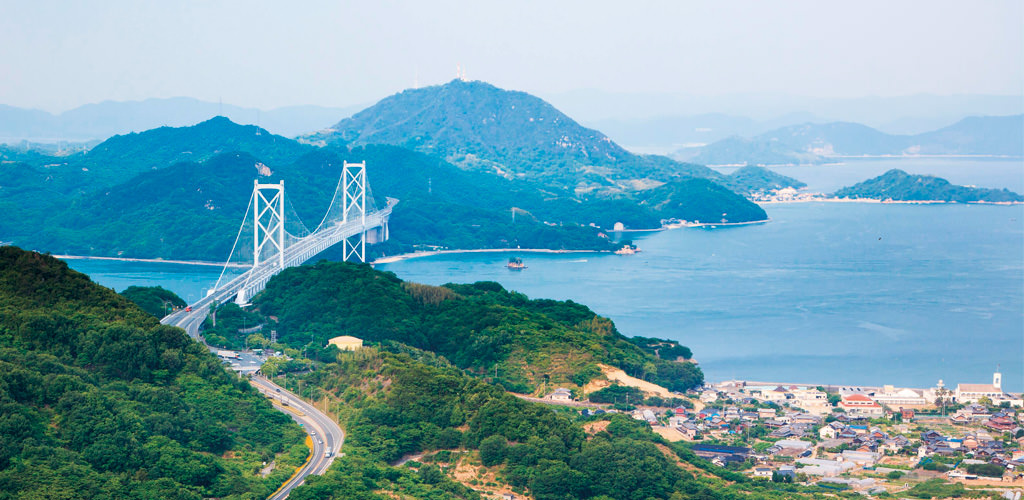 ©Hiroshima Prefecture and JNTO
Did you know that it's possible to cross Japan's Seto Inland Sea by bicycle?
A 60-kilometre route known as the Shimanami Kaido connects Honshu, the largest of Japan's main islands, with its southwestern neighbour of Shikoku. Covering nine giant-sized bridges, it is a fantastic way to experience the coastal landscape and culture of this scenic area of Japan.
To cycle the route, start in one of the cities of Imabari (Ehime Prefecture, Shikoku) or Onomichi (Hiroshima Prefecture, Honshu); rental bicycles are available locally.
As it crosses the Seto Inland Sea, the Shimanami Kaido passes through the Geiyo Islands scattered across the middle of it. Popular in spring and summer for their brilliant flowers in full bloom, these islands also harbour interesting cultural highlights, such as Suigun Castle on Inno-shima Island, and offer delicious opportunities to enjoy local produce.
The Hanaguri Seto observation point on Omi-shima island is an essential stop off for a snap of the ride, with its beautiful coastal backdrop.
WALKING THE ANCIENT WAYS
Highlights of Kamikochi, the Kumano Kodo pilgrimage routes, and the old Nakasendo
KUMANO KODO PILGRIMAGE ROUTES
Kii Peninsula, Wakayama Prefecture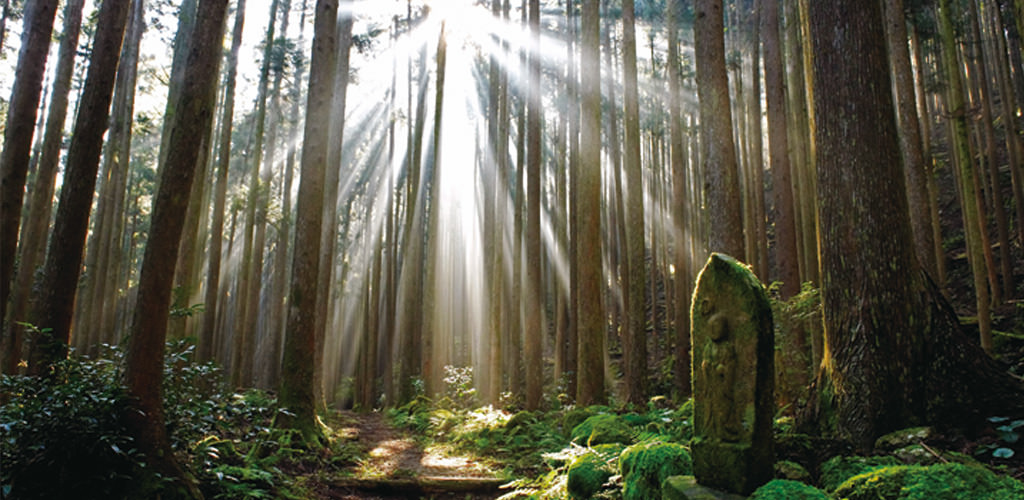 ©JNTO
In ancient Japan, the mystical forests of the Kii Peninsula were home to wandering mountain priests, who secluded themselves in this mountainous area of Wakayama Prefecture to undergo spiritual training.
Kumano Sanzan, a fusion of Buddhist and Shinto monuments and sacred sites in the heart of the peninsula, developed from the ninth century; over subsequent ages, the footsteps of countless pilgrims from all walks of life have been imprinted on pilgrimage routes from the major cities of ancient Japan to pay their respects at the shrines. Known as the Kumano Kodo, they are part of the 'Sacred Sites and Pilgrimage Routes in the Kii Mountain Range' World Heritage-listed area, and feature countless awe-inspiring views such as Nachi Waterfall, thundering into the valley below the graceful three-storey pagoda of Nachisan Seiganto-ji Temple.
KAMIKOCHI
Northern Japanese Alps, Nagano Prefecture
©JTA and JNTO
The Kamikochi area of Japan's Chubu Sangaku National Park showcases alpine scenery done to perfection. A narrow, biodiverse and volcanic basin at an altitude of 1,500 metres, two of its essential views are over the ponds of Taisho and Tashiro. The crystalline waters of the former reflect the impressive tiered peaks of Mt Hotaka and Mt Yakedake; meanwhile, Tashiro Pond is revered for the beautiful alpine plants that blossom on its surface, decorating its glassy reflection of the surrounds.
Reaching heights in the vicinity of 3,000 metres, the ranges towering around Kamikochi also dominate the horizon on both sides of the nearby Kappa Bridge; the season to appreciate its alpine flora is May through July, while autumn foliage starts to turn in October.
NAKASENDO
Kiso Valley, Nagano and Gifu prefectures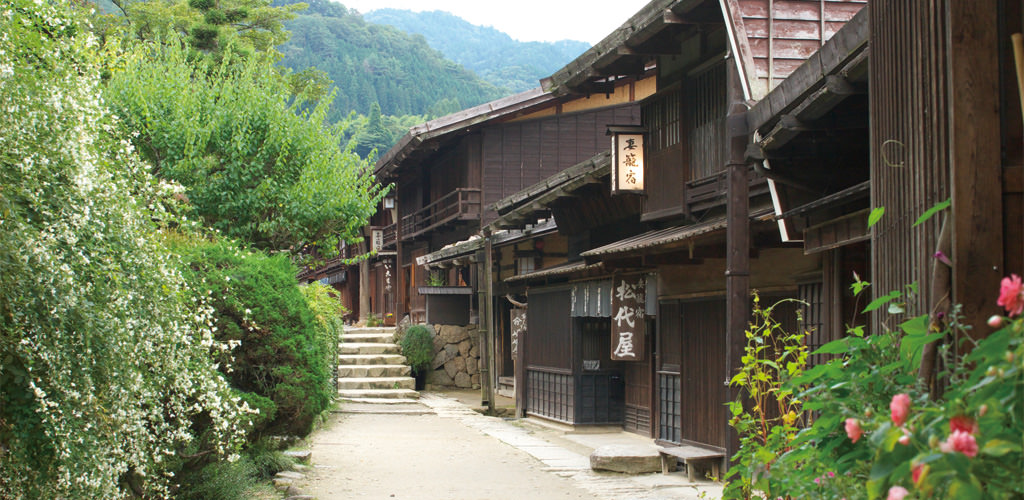 ©Nagano Prefecture and JNTO
Complete with cobbled streets, beautifully preserved samurai architecture and quaint rural landscapes, the post towns of Magome and Tsumago are a Miyazaki film brought to life.
Much remains intact scenically here since these towns became romanticised by a series of nineteenth-century ukiyo-e prints depicting the 69 post towns of the Nakasendo, a 540-kilometre samurai highway between old Tokyo and Kyoto. Today, the eight-kilometre stage of the highway between Magome (Gifu Prefecture) and Tsumago (Nagano Prefecture) is enjoyed as a rewarding two- to three-hour walk, which features some of the most authentic scenery of the old Nakasendo in the days of the samurai. Tours are offered in English of Tsumago's old rest house ('waki-honjin'), an Important Cultural Property of Japan, which provide an interesting glimpse of life on the road in Edo Japan, 1603 to 1867.
HEAVEN IN HELL
The hot springs of Kinosaki, Beppu and Kurokawa won't let you down
KINOSAKI ONSEN
Tajima, Hyogo Prefecture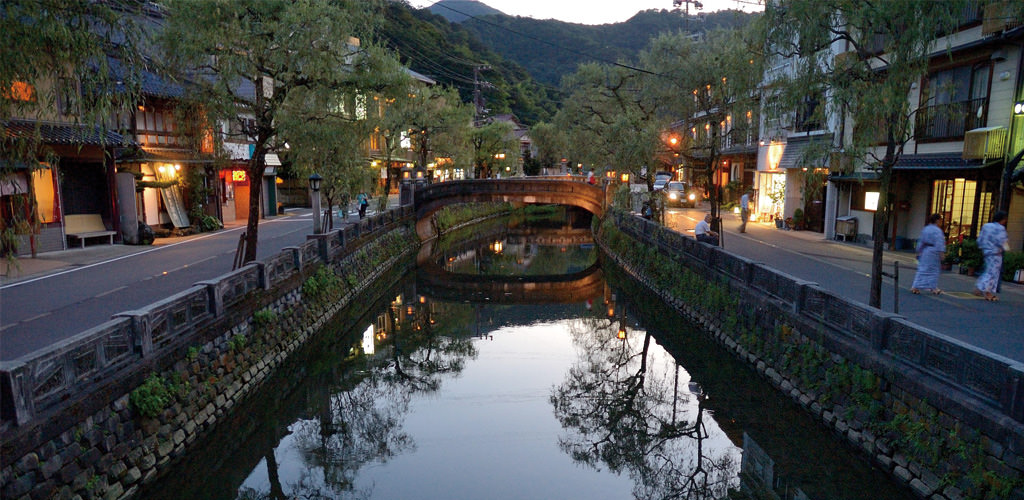 ©Toyooka city and JNTO
Local hospitality has long been refined as an art form in Kinosaki Onsen, where the done thing is a tour of the town's seven public bathhouses (soto-yu).
Set in the rolling pastures of the Tajima region, close to the Sea of Japan, Kinosaki Onsen has been known as a healing destination for some 1,400 years. It has retained the charm of old-world Japan, which sets it apart today as a timeless classic of hot spring bathing, where robed inn guests stroll meditatively through cobbled walkways, lined with beautiful established trees and water features.
Guests at hot spring inns in Kinosaki Onsen also benefit from an excellent opportunity to indulge in the local delicacies of the Tajima region, including snow crab, Tajima beef and boutique sake.
BEPPU ONSEN
Oita Prefecture, Kyushu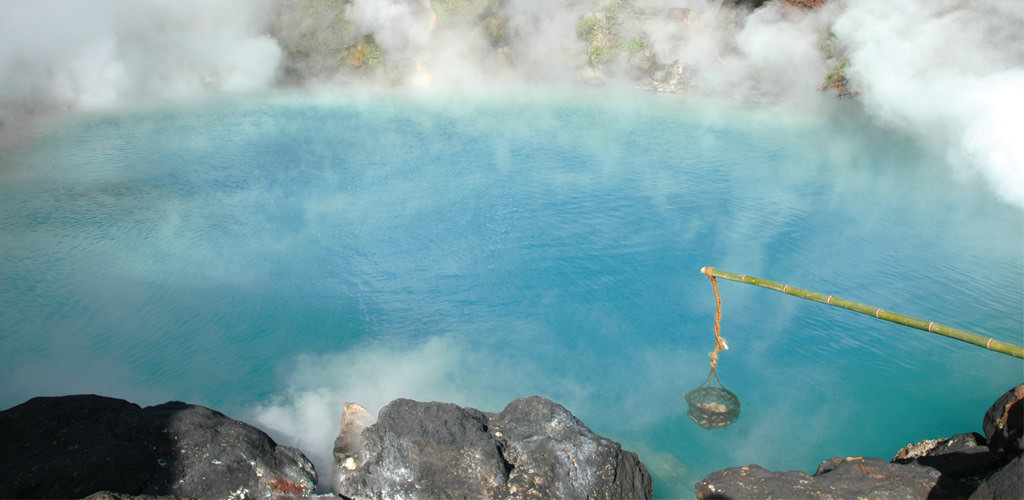 ©Promotion Airport Enviroment Improvement Foundation and JNTO
Diversity and quantity. If there was ever a hot spring destination abundant in these natural endowments, it is Beppu.
Here, Japan's most abundant supply of steaming natural spring water pours forth from the volcanic earth; visitors descend into a tour of its eight 'hells' ('jigoku meguri'), indicating the praiseworthy nature of the geothermally heated bounty.
With names like 'Blood Pond', 'Furnace' and 'Shaven Monk's Head', these springs possess exceptional natural traits in a category of their own, including blood-red waters and muddy bubbling brews.
Set amidst the spectacular natural environment of Beppu, a jigoku meguri is one of the ultimate ways to sit back and meditate on its rich tapestry of seasonal colour.
KUROKAWA ONSEN
Kumamoto Prefecture, Kyushu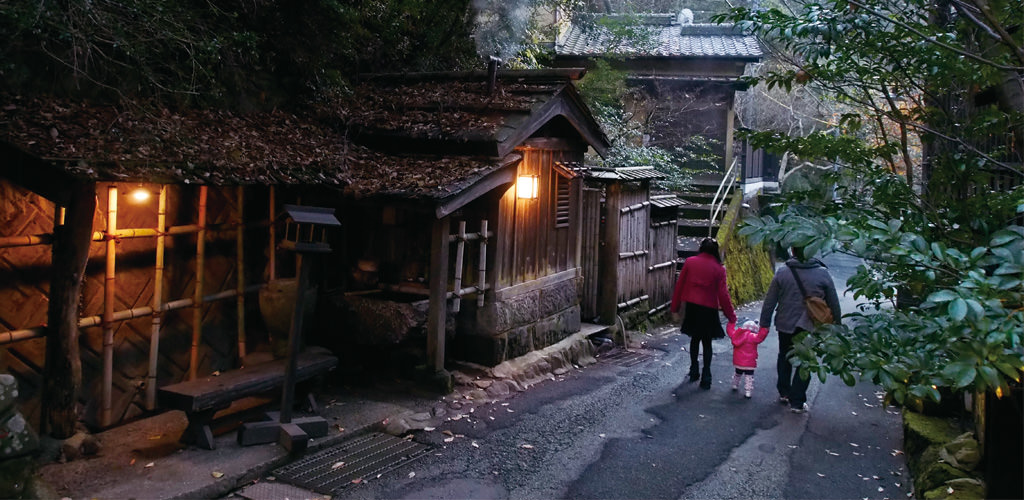 ©Akimasa Yuasa and JNTO
Will it be the cave baths? Or the riverside? Outdoor hot spring bathers are spoilt for choice in Kurokawa Onsen, a small hot spring community of Kyushu in Japan's south. The village makes it easy for visitors to maximise their time exploring its hot spring baths, using the handy 'Nyuto Tegata' entry passes – which provide entry to three baths for ¥1,300.
With yukata-clad inn guests and visitors strolling about its quaint streets, and beautiful seasonal blooms, the village has plenty to offer in terms of atmosphere – in addition to its excellent hot spring waters.
For families and groups, some bathhouses and inns also provide group baths, which can be booked for set intervals. Head to the Kazenoya Visitor Center for bookings, brochures, and importantly, yukata!
COMMENTS